Eight Months, Four Rooms, One Nomadic Adventure (Photos)
This is me in Baltimore last month.
It's been almost eight months since I gave up my apartment in DC to save money for travel. What's really happened in that time is that I've learned a ton about myself – who I really am and who I really want to be. At this point in my journey, I thought it might be helpful to post a brief timeline for those who are new to the blog and my experience exploring location independence – the ability to live and work anywhere.
In August 2011, I ended my apartment lease in DC. I gave away, donated or threw out most of my things, including all of my furniture (of which I had little anyway).
From August – November 2011 I rented a room in Lorton, Virginia (a suburb in Northern Virginia) for $600 a month. I found the room on Craigslist. This was my first time living with anyone else in years. It was weird having a roommate/landlord after living alone in my own place for so long, but I got used to it (and her cat) after a while. I had full-house privileges here: kitchen, laundry, wi-fi and cable.
From late November to late December 2011, I lived in Honolulu, Hawaii. I stayed at the YMCA for $250 a week. I loved my time on the island, but I missed being able to just drive to go see my mom or hang out with friends in DC. I think this is the first moment when I started to realize that long-term travel may not be for me. If one month in tropical paradise makes me that homesick, then a months-long backpacking trip will probably be really depressing.
When I came back from Hawaii, I went to visit my family in Tampa, Florida for the holidays at the end of December 2011. Going to the beach in the winter is something I want to be able to do every year!
When we came back from Florida, I stayed with my mom and her hubby for two weeks until I decided to make my next move to Baltimore. Why? I wanted to stay close to family for a while and save a little money, too.
From mid-January to mid-March 2012, I rented a room in a townhouse in Bolton Hill, a beautiful historic neighborhood in Baltimore. It was $450 a month with limited house privileges (kitchen and wi-fi but no laundry or cable). I'd fallen in love with it after seeing it on Airbnb (referral link).
Since mid-March, I've been renting a room in a house in Charlottesville, Virginia (about an hour from Richmond). I found it on Airbnb for $800 a month with full-house privileges (except cable – there are no TVs anywhere in the house). My host is an artist/designer and I love the beautiful style and convenient location of her home. Right now, I plan to be here through mid-May.
As you well know by now, I'm no photographer, but here are a few photos that tell some more of the story of my nomadic adventure so far.
My room in Lorton, Virginia. All the furnishings were antiques as my landlord was an avid collector.
The sun setting on my first night in Honolulu, November 2o11.
Marukame Udon – this was my absolute favorite place to eat in Honolulu. You could get a bowl of udon (thick noodle soup made with fish broth) for about $4. I must've eaten here about a dozen times over the course of the month.
Holiday hula in Honolulu. With half-naked hotties. (I know you love my alliteration LOL!)
Can't forget these lovely ladies. Hula girls take their dancing seriously, I tell you.
My Hawaii trip came to an end with a fun "tweetup" with two ladies I met in person from Twitter! One lives in Honolulu and the other was visiting from Kenya. What a small digital world we are living in.
I spent Christmas in Tampa, Florida with my family. This is the balcony of the condo my mom rented out near the water. We played Taboo, ate lots of sweet potato pie and hung out at the beach. It was a great way to close out the year, right before my 29th birthday, of course.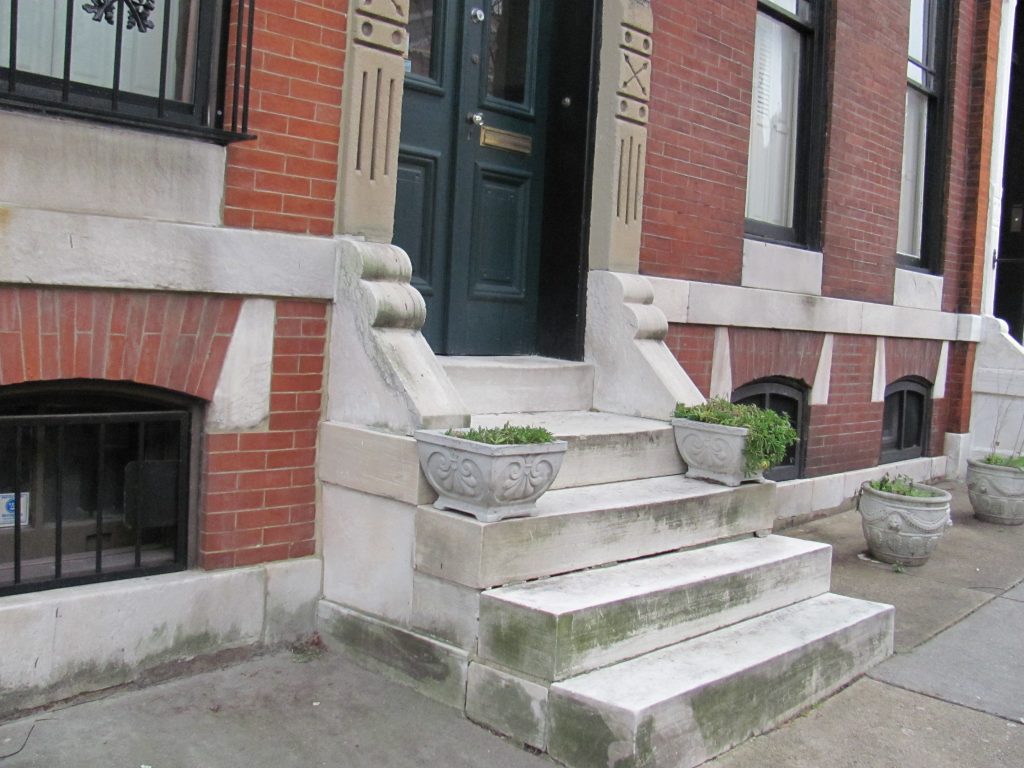 The townhouse I stayed at in Baltimore. At $450 a month, it was the best deal I've seen so far in terms of flexible housing for that price in such a great location.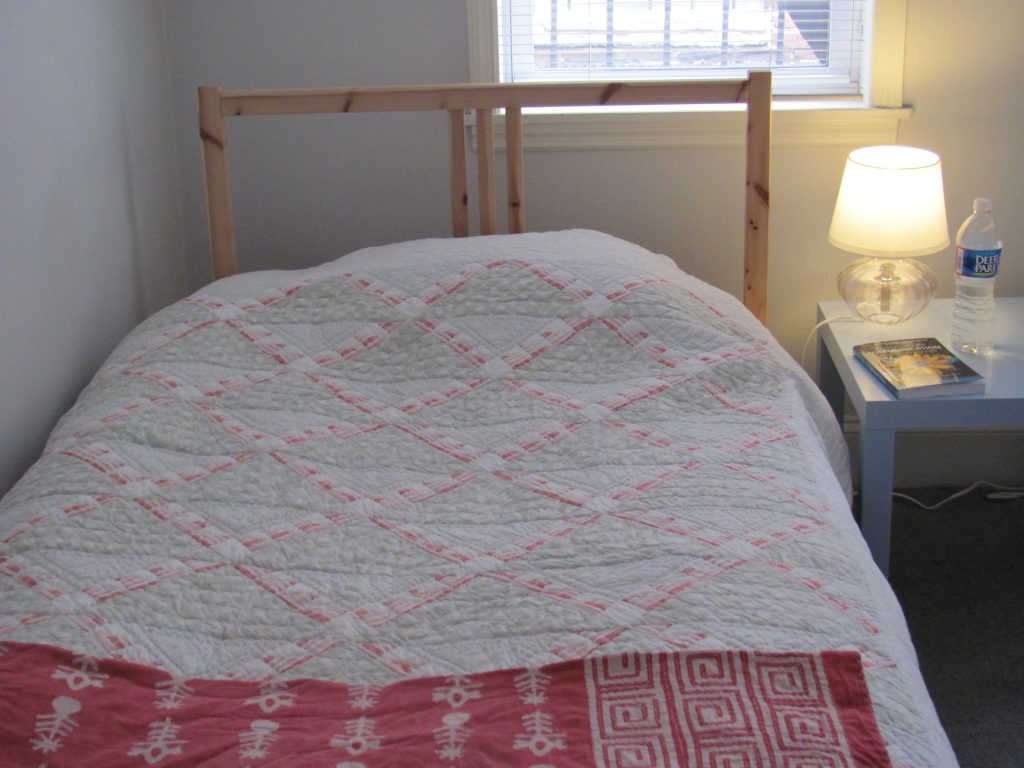 My room in Baltimore. It was very bare, really just an Ikea bed, my yoga mat, plus my clothing and toiletries.
XS – my favorite restaurant in Baltimore. It was my "office" at least a few times a week. I would go in the morning and set up shop until late afternoon.
I ate a lot of french toast at XS while working on my laptop – writing blog posts, booking speaking clients. Also sushi! They have the best sushi.
Lexington Market in Baltimore. A fun place with lots of character (and characters!). Like this sign…
I ate the best crab cakes of my entire life at Faidley's Seafood. Nothing will ever compare, I'm sure of it.
I hung out with my sister for the first time in over a month when she came to hang out with me in Baltimore for brunch at Blue Moon Cafe. We ate Captain Crunch french toast and something called a Sweet Baby Jesus that consisted of hashbrowns topped with eggs, fresh crabmeat and tomatoes. Divine!
In Baltimore, I rediscovered my need for quiet beauty and fell in love with the botanical gardens.
This is the room I'm renting in Charlottesville, Virginia.
In Charlottesville, I've been enjoying the wine and literary culture they have here. It's definitely a beautiful and inspiring place to be in the spring!
What I've Learned About Location Independence
One of the biggest lessons I've learned through this journey is the impact of my business on my ability to travel. I'll write more about that later, but in short – being a professional speaker means that I do have to be in certain places at certain times. Being near an airport is super important and knowing which airport, exactly I'll be near has proven to be critical for conference organizers who often have to book my flight way in advance. So, there are definitely limitations to being fully location independent with the way my current business model is set up. If I wanted to have even more control about where I live, I would need to increase my non-speaking income from clients and customers, i.e. from my books, advertising/affiliate marketing and online training courses.
Where to Next?
The big question, of course, is where to next? I am open to the possibility of living in New Orleans and/or Portland during June-July. With either plan though, there are a few wrinkles, like my upcoming speaking engagements and that I'll probably have to give up my car again for a while. On the international front, I'm planning to get to Italy in August (and maybe Greece, Spain and/or Thailand, too!) for about a month, which would only be my second-ever trip to Europe!
Beyond that, I just plan to keep writing and working and paying attention, wherever I am. I hope you're allowing yourself to enjoy all the possibilities of spring, wherever you are.
The post Eight Months, Four Rooms, One Nomadic Adventure (Photos) appeared first on Happy Black Woman.